Background
Edit
Weapon Information



Name

AN-94 + GP30

Gun Type

Slot 9 Assault Rifle

Firing type

Weight

Long

Mag Capacity

30

Damage Level

20 + up to 10 randomly

Belongs to

Alt-Fire

ADS + 2-round burst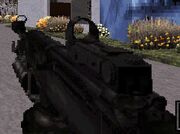 An assault-rifle with a Kobra sight and GP-30 grenade launcher. The AN-94 has a unique 2-round burst function that fires twice almost instantly without any loss in accuracy.
The AN-94 is a good all-round Assault Rifle; With the 2-round burst mode it can also function as a battle rifle as well.
When using the sight the gun fires in a 2-round burst mode; the two rounds are fired almost instantly and it suffers no accuracy penalties with rapid bursting. This makes the AN-94 a great gun for long range combat as well. It's grenade launcher is also excellent when encountering larger groups of weak enemies or softening up larger targets. .
The AN-94 can be bought from the Shopkeeper if you rescued Matvei - it costs 25k base budget.
There are no upgrades for the AN-94.
More information
Edit