Background
Edit
Weapon Information



Name

Chainsaw

Gun Type

Temporary, Slot 0

Firing type

Melee

Weight

Medium

Mag Capacity

N/A

Damage Level

50, high ROF

Special Abilities

None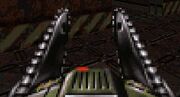 Description
Edit
This double-bladed chainsaw is lethally effective against slow-moving enemies, especially Zombies. Originally built for mining use to cut through tough materials, human ingenuity once again turns this tool into a deadly weapon.
The Chainsaw can be found in the storeroom in Ganymede; the room requires a keycard found in the lower mining area of the base.
The Chainsaw is a rapid firing weapon capable of dealing high damage; it slices right through weak enemies and is a good fall-back weapon due to it not needing ammunition. It's main drawback however is that you have to be up and close to an enemy to use it, which is where the majority of enemies can deal the most damage.