Background
Edit
Weapon Information



Name

FN FAL

Gun Type

Temporary, Slot 0

Firing type

Weight

Long

Mag Capacity

20

Damage Level

30 + up to 16 randomly

Special Abilities

None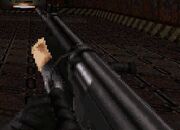 Description
Edit
Often referred to as the right arm of the free world, the FN FAL is a reliable battle rifle. Firing the 7.62 calibre round, the FN FAL is capable of taking on the majority of enemies you may encounter. It's only real downside is the 20-round magazine; although that is more than enough to take down most enemies.
The FN FAL is often dropped by higher-ranked Cultists dressed in Purple robes; you can also find several located throughout Revolution and the Palace Bunker.
The FN FAL is an accurate and powerful weapon; it's 20 round magazine may seem small but the weapon deals enough damage to kill most enemies before the mag is depleted. This gun also goes straight through body-armour; however it's ineffective against armoured enemies.
If the magazine is emptied, it takes slightly longer to reload due to having to pull the gun's handle - bear this in mind during long firefights.
More information
Edit