Background
Edit
Weapon Information



Name

Missing in Action Gun

Gun Type

Temporary, Slot 0

Firing type

Energy, Projectile

Weight

Medium

Mag Capacity

N/A

Damage Level

N/A

Special Abilities

Gain research
Research Information



Name

Missing in Action Gun

Research Type

Weapon

Tech Level needed

One

Research Cost

2k

Requires

N/A
Research Description
Edit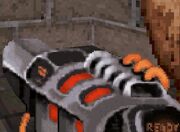 Temporarily displaces an enemy; can also be used to gain research data on certain specimens.
Loadout screen Description
Edit
This device can be used to either rescue civilians that cannot be reached, or to temporarily remove enemies from the battlefield (Certain enemies may provide us with additional research this way as well)
Description
Edit
The MIA gun, originally developed during the 'Pray your Prayers' mission involving Duke Nukem, is a defensive weapon designed to put an enemy in stasis for a short amount of time. The original version of the gun only did this for a few seconds, but later versions can hold an enemy for much longer.
The MIA Gun's research project can be found on one of the tables in the AMC laboratory; the gun itself can also be found in the EAF Megabase in the main control room.
The MIA gun is useful for removing powerful enemies from the battlefield for a short period of time; you can use this time to mop up and defeat any weaker enemies that are around before dealing with the bigger ones. Using the gun results in a temporarily blinding flash however; use of vision goggles negates this but looking away can also work.
Use of this gun on certain enemies can result in Research projects; the Satyr for instance gives a project that helps against fire attacks.