Background
Edit
Weapon Information



Name

Remote Dart Gun

Gun Type

Slot 7 Explosive Gun

Firing type

Projectile

Weight

Small

Mag Capacity

N/A

Damage Level

250 (Radius damage)

Belongs to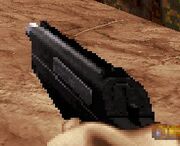 A dart-gun built from a VP70 frame; fires small high-explosive darts that stick to a target and explode when triggered. Can also fire flame-darts that shoot a ring of fire from it's centre.
The Dart-gun is a useful weapon for setting traps as well as a purely offensive weapon. There's no limit to the amount of darts that can be set; pressing alt-fire will detonate all darts fired (This also includes flame darts)
There are no upgrades for the Dart Gun.