Background
Edit
Weapon Information



Name

Silver Talon

Gun Type

Slot 1 Pistol

Firing type

Weight

Medium

Mag Capacity

8

Damage Level

30 + up to 15 randomly

Belongs to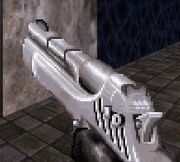 A potent handgun; it's large and unwieldy, but incredibly powerful. Ammo is hard to find and it has a small magazine of 8 rounds.
The Silver Talon is a deadly weapon with a quick reload, a fast semi-auto fire rate and decent accuracy. It's shots can be enough to kill most enemies in only one or 2 blasts. However each ammo pickup only gives 8 rounds; not a problem for smaller maps but for longer missions where ammo is lacking it may become an issue.
The Silver Talon can be purchased from the Shopkeeper for 15k base budget.
The Silver Talon has no upgrades.